Where in the Worlds has SETI Institute Been? - Sept 4 - 10, 2017
Pluto – First Official Names Unveiled
The International Astronomical Union (IAU) announced the first official names for 14 places on Pluto.
The names were proposed in 2015 by the New Horizons team which includes SETI Institute scientists Mark Showalter and Ross Beyer. Both are members of the New Horizons Nomenclature Working Group which collaborated with the SETI Institute and the IAU on the "Our Pluto" online naming campaign, inviting the public to propose names. "I'm delighted that most of the approved names were originally recommended by members of the public," said Mark. 
New Horizons is a probe that was launched in 2006, with a primary mission of a flyby study of the Pluto system. Its secondary mission is to study Kuiper belt objects. Its next flyby will be of Kuiper Belt object 2014 MU69 and will take place in January 2019.
Asteroid Florence and Unistellar eVscope
Asteroid Florence is one of the largest known near-Earth asteroids, nearly 5 kilometers in diameter. On September 1st Florence passed through the Earth-Moon system, at a relatively safe distance of 4.4 million miles from Earth. That was close enough though for SETI Institute scientist Franck Marchis and graduate student Clement Chalumeau to use the Unistellar eVscope to find and create an image of Florence as seen from the San Francisco Bay Area.
Uniestellar's eVscope offers three unique features: 
- "Enhanced Vision" technology to produce detailed images of even faint astronomical objects by accumulating their light and projecting it into the telescope's eyepiece
- Autonomous Field Detection uses GPS to pinpoint celestial objects easily
- Campaign Mode to allow users around the world to image and collect data to be shared with a data repository at the SETI Institute where the scientific community can gain access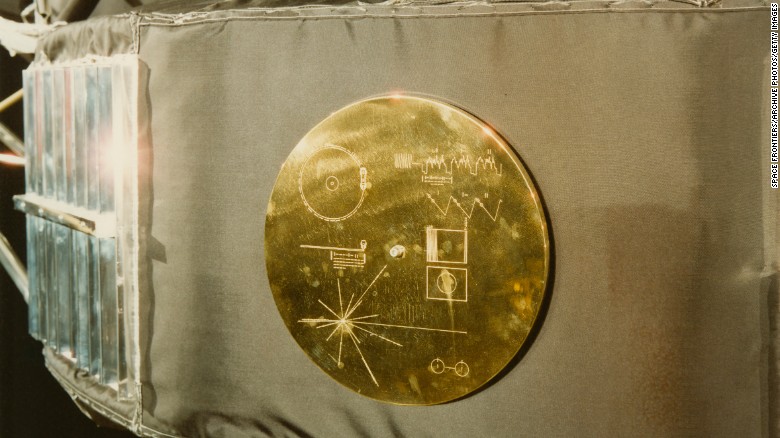 Voyager, The Golden Record and Frank Drake
As the two Voyager space probes travel further and further into interstellar space 40 years after launch, here on Earth we remain fascinated with the Golden Record and what was on it.
The Golden Record is a gold-plated copper disc that includes a wide array of music, natural sounds, human greetings, images and printed messages intended to represent the diversity of humanity and human culture. The contents of the Golden Record were determined by the Interstellar Record Committee which was chaired by Carl Sagan and included the SETI Institute's Frank Drake. 
Jill Tarter on the Radio (or Podcast)
Jill Tarter, Bernard M. Oliver Chair for SETI at the SETI Institute and member of the Board of Trustees was on Science Friday to discuss her life's work. She also appeared with author Sarah Scoles on the Cited podcast to talk about Sarah's book, Making Contact: Jill Tarter and the Search for Extraterrestrial Intelligence. 
Facebook Live
In last week's Facebook Live we talked to Mark Showalter about the naming of the features on Pluto. All SETI Institute Facebook Live videos can be found on our Facebook page.
Big Picture Science
Last week, our encore Born Legacy wondered how to make stars shine. This week, Plan of a Hack, looks at hacking of yore, before it there were computers and before it was criminal.
Also, BPS operations manager Barbara Vance talked to MSO Radio On Demand about her work and her former work as a librarian, Big Picture Science and the SETI Institute. 
Events
StarTalk Radio, September 16, Seth Shostak will guest host this Neil deGrasse Tyson radio program that explores science, pop culture and comedy.
European Planetary Science Conference: September 17-22, Riga, Latvia SETI Institute Scientist Matt Tiscareno will present research on the planetary rings of Saturn and the Cassini mission.
NightHowl, September 23, San Francisco, CA Franck Marchis will demonstrate the Unistellar telescope 
Great Conversations at the Ontario Science Centre, September 27, Toronto, Canada Jill Tarter will speak on A Cosmic Perspective: Searching for Aliens and Finding Ourselves.
Menlo Park Library Science Night, September 28, Menlo Park, CA SETI Institute scientist Margaret Race will take part in the Menlo Park Library's annual science night.
G.I.R.L. (Girl Scouts Convention), October 6-8, Columbus, OH Pamela Harman will participate in a panel discussion and share information about the SETI Institute's work to develop space science badges for the Girl Scouts.
Division of Planetary Sciences, October 15-20, Provo, UT SETI Institute Scientist Matt Tiscareno is a featured speaker who will present research on the planetary rings of Saturn and the Cassini mission. Other SETI Institute scientists whose work will be featured at the conference include Christina Dalle Ore, Melissa McGrath, Mark Showalter, Franck Marchis, Driss Takir, Robert Morris, Matija Cuk, Ross Beyer, David Hinson, Erin Ryan, and Peter Tenenbaum.
American Geophysical Union: December 11-15, New Orleans, LA SETI Institute Scientist Matt Tiscareno will present research on the planetary rings of Saturn and the Cassini mission.